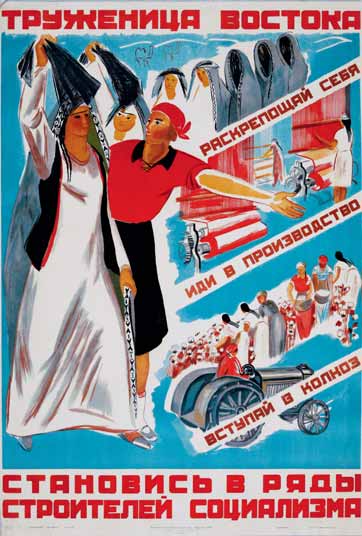 Thursdays 17:30 – 19:05 via Zoom due to COVID
Zoom registration: https://cesnet.zoom.us/meeting/register/tJYoc-GrrjopGNaYPtvudqQ7-zPAt-8CBYhW
This course introduces students to major themes in the field of Soviet women's and gender history. Covering the period from the revolution to the collapse of the country, the course examines experiences, identities and gender relations.
Among many topics, the course will explore issues such as work, family roles, maternity, fatherhood, sexuality, sex-work, abortion, political engagement, gender representations in posters and films, etc. Students will be marked by their participation, presentation and final essay.
All readings are in English. It is absolutely mandatory to read all articles posted below for every class. During the class we will discuss them.
Requirements and Grading
Undergraduate Students
A. Class Participation:  10%
B. Presentation: 15%
C. Book Review: 25% (due 13 May)
D. Final Paper (2000 words +-10%, due 10 June): 50%
Graduate Students
A. Class Participation:  10%
B Presentation: 15%
C. Book Review: 25% (due 13 May)
D. Final Paper (3000 words +-10%, due 10 June):  50%
 A. Participation is evaluated on the following criteria:
providing meaningful discussion questions;
contribution to the weekly seminar discussions.
All students have to send 3-5 discussion questions based on the readings 2 hours before every class. These questions are also considered as part of participation.
B. Presentation: each student is required to have a class presentation for one of the weekly seminars of their choice. The presentation is maximum 10 minutes long.
C. Book Review: each student will write one book review.
The selected book must be approved by the instructor. The length of the review is 650-750 words.

D. Final paper: The final paper discusses one question, provided by the instructor or chosen by a student in consultation with the instructor. It is based on primary sources (most likely in translation) or secondary sources (in this case, you are expected to engage the historiography of the issue).
The length of the paper is 2000 words for undergraduate and 3000 words for graduate students.
The final paper should be seen as a research project, discussing a question/problem in an original way.
The question and the primary and secondary sources must be analysed critically, focusing on your arguments. Please feel free to consult the instructor during the entire process.
 
Experiential Learning:
During the discussions, we will aim to combine direct experience with focused reflection on the course readings. We will build on past knowledge and experiences, always striving to foster critical thinking. Besides the required readings from this outline, we will listen to oral history accounts, read (translated) primary sources, watch films (with subtitles), and analyse other sources such as images and posters.
Aiming to maximise the student's learning outcomes, graduate students can also suggest alternative tasks that could contribute to their final dissertation.
Presentations Noticeboard:
4 March - Ekaterina Buianova and Daria Filippska (Religion and Gender); Karin Spišáková (Zhenotdel)
11 March - Edwards Jayson Aquila Kwaku and Emma Hurson (on prostitution)
18 March - Szymon Gasiorowski (Women Employment and Stalinism); ; 2 potential slots
25 March - Katarzyna Karpińska (Racism); Gabriela Grzelak (Roma in the SU); 1 potential slot
8 April -  Igor Kolmakov (Gender and Muslim Communities); Jaspreet Sahota
15 April -  Alexandra Geints and Ada-Louise Voituriez (on same-sex desire); Agata Rybka (on transgender); Tatsiana Biruk (on homosexuality)
22 April -  Diane Juliette Gabriel-Charmant and Maria Glowacka(on youth sexuality); 1 slot available
29 April -  Valentina Carnali and Anhelina Pryimak (on abortion); 1 potential slot
6 May -  Anastasia Łoś (the second shift); 1 potential slot
13 May - Ivan Posylny (on gender roles, bullying and stereotypes); Valentina Bagozzi (religious feminism); Veronica Dohme (late Soviet, early Russian feminisms);
20 May - Available 2 slots